Memorable Moments
In 1983, I was named Breeder of Record of the Top Winning Bichon in the USA for 1983 Am/Cdn Ch Craigdale Ole` Rhondi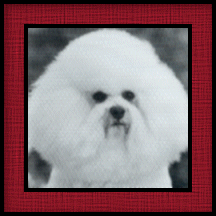 In 1984 , I was Breeder of Record of 2 of the Top Winning Bichons in the USA Am/Cdn Ch Craigdale's Ole` Rhondi and Am/Cdn Ch Craigdale's Primo
!983 - 1987 Breeder of the top winning Bichon in B.C. 4 years straight Am/Cdn Ch Craigdale and the Sundance Kid
Probably the most thrilling experience was to be asked to Judge the BFC of Great Britain Open Show in 1986 with Barbara Stubbs ( Chaminade - USA ) This will always be my highlight in the wonderful world of dogs
Other assignments in judging I've had the honour of being asked to do
1988 -BFC of Northern Calf. Specialty -Sweepstakes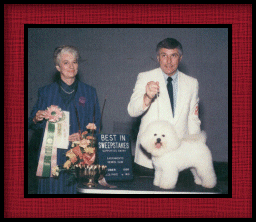 May 1990 BFCA National Specialty - 5th and last Breeder Competion. With fellow Judges Geraldine Grieg from Australia and Geraldine Church from Mexico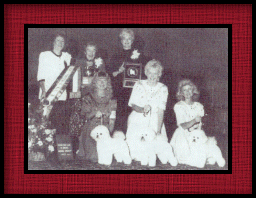 1993 - BFC of Northern Calf. Sweepstakes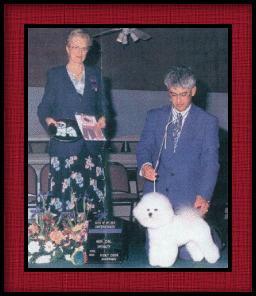 Was one of the founding members of the Bichon Frise Club of Canada in 1979. From 1987 to 1988 I was honoured to serve as President of the Bichon Frise Club of Canada and remain today as a Director.
In 1996 was Breeder of Record of the #1 Bichon in the USA for the Breed **(Pedigree Awards System )
Am/Cdn/Intn'l Ch Craigdale Yoannewyn's El Toro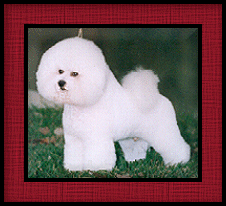 In 1999 "Toro" came out of retirement to win BISS at the BFCC 1999 National Specialty from the Veterns class
In the year 2000, I was honoured to be asked to Judge Sweepstake at the year 2000 BFCA Nationals in CT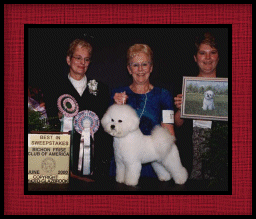 In the 27 years since I was introduced to this wonderful breed the Bichon Frise, the most dear to my heart memories are the wonderful Friends I have met along the way, of who without the help of, many of my " Memorable Moments" would not be.
..And it all started with a Bichon puppy named "Heidi"
Love
Dale
Victoria, B.C. Canada
craigdale@shaw.ca